The Film
Athena is a mother who will do everything in her power to protect her herd when they are forced to leave their waterhole and embark on an epic journey across the African savannah in a tale of love, loss and coming home.
Narrated by Chewitel Ejiofor.
Availabile in English, Kiswahili & Maa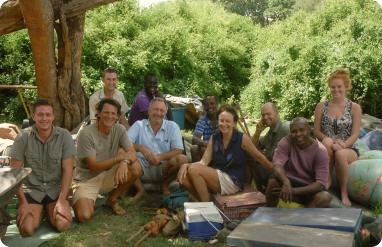 The Field Team from left to right:
Harry Williams, Etienne Oliff, Pete Cayless, Mourice Oyier, Mark Deeble, Mbogo Kidelela, Victoria Stone, Norbert Rottcher, Musili Sakayo, Kerry Roberts.
From the Directors
The Elephant Queen film is the result of 4 years filming in the greater Tsavo ecosystem, and 3 years in postproduction by a diverse, talented and committed team. We've always worked with a small team - several of us including Etienne Oliff and Norbert Rottcher have worked together for 25 years in Africa, making wildlife films for international distribution.
The Film is Just the Start
From the outset, the team wanted the film to make a real difference for elephants in Kenya - to help conserve elephants and support and foster environmental education. Through their commitment and determination, that hope became reality when, with the support of Bestseller Foundation, they were given the opportunity to design and develop a dedicated Elephant Queen Outreach and Education Project (O&E) which aimed to use the film to inspire an appreciation for wildlife, conservation and the environment. This website www.elephant.co.ke serves as the home for a toolbox of Elephant Queen conservation education resources which were created in collaboration with the Kenyan Institute of Curriculum Development (KICD), the Youth Theatre of Kenya, Kivukoni School and StoryMoja.
Film Credits
Told by
Chiwetel Ejiofor
Directed by
Mark Deeble & Victoria Stone
Assistant Director
Etienne Oliff
Written By
Mark Deeble
Produced by
Victoria Stone
Produced by
Lucinda Englehart